My Story: Richard Doverspike
Richard "Dick" Doverspike was born January 6, 1923 in Vandergrift, Pennsylvania, to William Carl and Ethel Doverspike. He is the oldest of 3 brothers.
In 1936, an airplane flying over Vandergrift, a town of 20,000, was an infrequent sight. So, at the age of 13, Dick was thrilled when he saw a biplane flying overhead. The sight of the plane led to a quick bicycle trip to a small airport nearby so he could investigate this airplane. He was hooked immediately and started hanging around the airport. The owner eventually hired Dick to dust the planes parked there and sweep out the airport.
On Sundays, people in the area would drive to the airport and sit in their cars enjoying the novelty of planes taking off and landing. With so many onlookers, the airport owner decided to sell rides in an airplane. So, Dick had the job of selling $1 tickets for rides. For each ticket he sold, he got credit for 1 gallon of aviation fuel. That was the beginning of Dick's flying career, and on his 15th birthday, he soloed in an Aeronca C-3 airplane.
As a freshman in high school, Dick began singing in the boys' chorus and ended up with major roles in HMS Pinafore, Pirates of Penzance and The Mikado. Since he was doing so much singing for his high school, his mother insisted that he also sing in their church choir at the First Reformed Evangelical Church.
Dick complied with her request. Because he had a bass voice, he sat at the back at the end of the row for practice. Next to his chair was the pipe organ. This was the beginning of another passion in Dick's life. He was smitten with the pipe organ – not as an organist but as an architect and mechanic of the organ. He talked with everyone about it and read every book he could find on it.
His mother knew an organist who taught organ architecture at Carnegie Tech in Pittsburg, and Dick started taking classes in organ architecture. Anytime a new organ was being installed in the area, Dick was there.
After graduation from High School in 1940, Dick attended Columbia University in New York City. On December 7, 1941, he was with a group of college friends in Times Square. They noticed everyone was looking toward the news ticker on the Flatiron Building. The ticker had spelled out "JAPAN ATTACKS PEARL HARBOR." The next day, Dick enlisted as an Aviation Cadet in the Army Air Corps (now the US Air Force).
He received his basic flight training at Goodfellow Field, Texas, which is located near San Angelo, Texas. One weekend, while Dick remained on base to bowl, he received a call from one of his buddies who had gone into San Angelo to a dance. This friend had met a girl who had a friend with her. He wanted Dick to join them at the dance. Dick joined them, and the girl's name was Odelia "Dee" Arons. They were married after the war in 1946, and they had 2 children: a son, Terry Richard, and a daughter, Pamala Sue. Dee died in 2015. In 2016 Dick married Alta Selvey, an accomplished church organist and performer.
After completing basic flight training, Dick was assigned to an airfield in England, and he began flying missions in a C-47 troop transport. In addition to transporting paratroops, he delivered supplies to various MASH units in Europe and transporting severely wounded soldiers back to England on the return trip.
As a paratrooper transport, he dropped members of the 82nd Airbourne Division over Sicily in the summer of 1943. He dropped paratroops over the southern part of France immediately before D-Day to distract and confuse the German forces. And immediately following D-Day, he began flying missions to drop paratroops behind lines in France. His last missions were on Operation Market Garden flying over the Nazi-occupied Netherlands.
While in the Army Air Corps, he attended flight test school and flew P-51's. At the end of the war, Captain Doverspike joined the reserves and eventually retired from the reserves with the rank of Lt. Colonel.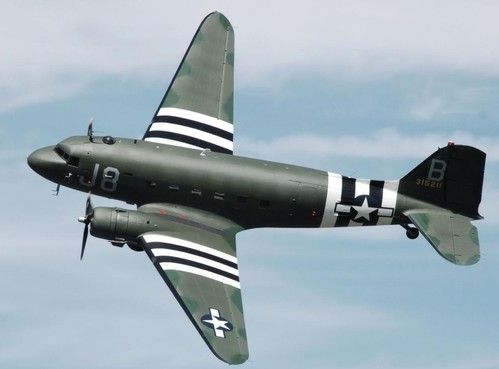 After the war, Dick returned to Vandergrift and worked with his father for 2 years. Then, he came to Tulsa to attend the Spartan School of Aeronautics to receive a mechanic's license with an eye to a flight engineer's certificate in the future.
In 1951, American Airlines, which was then headquartered in New York City, was hiring mechanics. Dick filed a job application listing his Spartan training but also included all his flight experience. When interviewed, it was obvious the interviewer had read the entire application because Dick was offered a job as a pilot instead of a mechanic – which he accepted. After flying the line for 2 years, in 1953 he became American Airlines' test pilot, a position he held until his retirement 30 years later in 1983.
In 1949 Dick was transferred to Tulsa by American Airlines, and he and Dee joined FUMC. That brought Dick into contact with another pipe organ, the Parriott Organ. Foster B. Parriott, a Tulsan and member of FUMC, was in the oil and gas business and a multi-millionaire. In 1928, Parriott, and two other wealthy oil men, Waite Phillips and C. W. Titus, traveled by train to New York to buy the highest quality pipe organ at the time, an Aeolian, for their homes in Tulsa. While they were there, Mr. Parriott also ordered a much larger Aeolian pipe organ for FUMC. The cost of the pipe organ in 1928 was $75,000. The equivalent cost in 2019 dollars is $1,125,311.40.
In 1954, Jean Gentry Waits, the FUMC organist, advised Bruce Badger, the chairman of the Music Committee, of some problems with the organ, such as several slow notes. Mr. Badger, aware that Dick was an organ architect, contacted Dick. He advised Dick of the organist's comments of difficulties encountered and asked Dick to inspect the organ and make recommendations to the Board of Trustees as to any necessary repairs and changes.
Dick and Mrs. Waits proceeded to design major changes in the organ. Then the question was who would make these changes. Dick and Jean were given a very positive reference about the Schantz Company, a company based in Orville, Ohio. It had recently re-constructed a similar Aeolian pipe organ at a church in Memphis. Jean and Dick flew to Memphis to review the reconstruction and were impressed by the work.
Dick and Ms. Waits met with Schantz, and in 1956, Dick recommended to the FUMC Board of Trustees that Schantz perform the re-build of the pipe organ. The Board of Trustees agreed to the re-build, but Schantz could not begin work immediately. The materials needed for organ pipes, lead and zinc, were unavailable because all supplies of lead and zinc were exhausted in WWII. The combination of lead and zinc was known as "spotted metal." Due to this shortage, Schantz was unable to deliver the organ pipes until 1960. At that time, Schantz completely re-built the organ and brought it up from 1928 standards to 1960 standards.
The solo division was a requirement on earlier organs, but Schantz did not want to build a solo division for our organ. Dick explained that a pipe organ is like a symphony orchestra. They are both made up of sections like the string section, the woodwind section, the brass section. Each section stands on its own, but they all must come together. While Schantz did not want to re-build a solo division, Dick wanted to maintain it. To resolve the issue, Schantz agreed to supply whatever Dick needed, but Dick would be responsible for building the solo division. Dick built that portion of the organ over the next 10 years, and it fit the Schantz re-build well.
When Mr. Parriott gifted FUMC with the organ in 1928, he also established a trust at First National Bank to maintain it. Mr. Parriott lived until 1956, and he personally paid for all organ upkeep until his death. Not a penny had been withdrawn from the Parriott Trust set up in 1928. The principal of the trust increased greatly, and in 1980, it was far in excess of $1,000,000. All expenses of the Parriott pipe organ subsequent to Mr. Parriott's death have been paid out of the Parriott Trust.
When Schantz and Dick had completed their respective portions of the re-build of the pipe organ, it had 85 ranks. In explanation, Dick said the piano has 88 keys and is limited to 88 strings. The organ has 61 keys, and it therefore must have a minimum of 61 pipes. But you're not limited to one pipe for each key. You can build additional pipes of varying differentiations for each key, and it changes their characteristics. Those are called "ranks." The size of an organ is determined by the number of ranks it possesses.
Photo Below: Beginning in the background and coming forward are display, mixture, string, reed, and flute pipes in the North Chamber.
Photo Below: Beginning in the background and coming forward are swell shades and string, reed, oboe, mixture and clarinet pipes.
Upon completion of the re-build in 1960, the Parriott Organ had 85 ranks. That was an additional 10 ranks over the original organ purchased in 1928 by Mr. Parriott. Over the years since 1960, we have added a rank here and there until today, it's at 122 ranks. Anything over 100 ranks is considered a large organ. The organ's 122 ranks include a total of 6,795 individual pipes. FUMC's Parriott organ is one of the largest in Oklahoma. In 2009, the console was digitalized and set up to handle 194 ranks and more than 11,000 pipes.
By the time the 1960 re-build was completed, our pipe organ was old. The average lifespan is about 30 years. The Parriott organ is now 91 years old. Its current condition is a tribute to the Schantz re-building and the efforts of Dick Doverspike and Phil Judkins. Dick and Phil have spent untold hours maintaining and repairing the organ. Dick was Curator fifty-one years from 1953 to 2004 and is now organ architect. Phil Judkins has been Curator since 2004.